Family Man Portal
The Family Man Portal is the online access to our cloud products. This portal can be easily accessed with your favourite browser on any device. You can then register yourself as the head of the family on the portal. As soon as you are logged in, you can add your housing situation and enter your family members and start the administration of your family.
The portal provides access to the distributed Family Man cloud services, which are supported by a support centre. The Family Man smarthome can be regarded in this context as a private cloud server, which can only be accessed by you and your family members.
In the portal you can register yourself and your family, free of charge, as new members and operate the modules, which are interfacing with your family.

If we take a closer look at the context of a family, we can zoom in on these interfaces.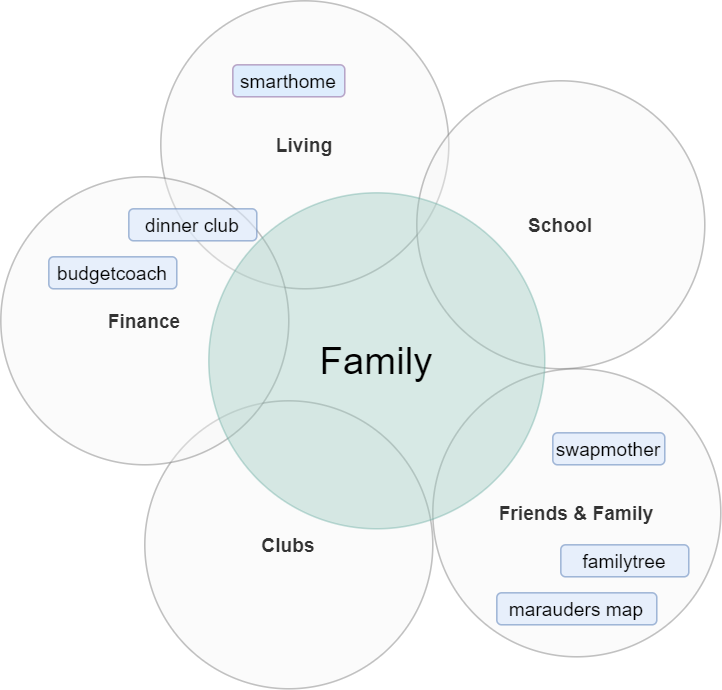 GEZINSMAN.NL mission statement is to create technical solutions, supporting your family on these interfaces.
First of all the smarthome on the interface Living. From the beginning of time, good housing is an important condition to start a family. Your bachelor appartment in downtown city doesn't usually provide a good environment to raise children. You need to find a decent family home with multiple rooms and a big garden. And of course you want the latest technology to make your house smart, so that it can support your family. For this, GEZINSMAN.NL has developed a new smarthome product, developed from a family perspective, which is not only professional, but also affordable.
When you have your house sorted out as newly couple, you will soon enter the next phase: children. You will soon notice, that time and money will run out on you fast. But that does not need to be. You have to make clever use of your social network and plan your expenses carefully. For this purpose GEZINSMAN.NL has a number of smart modules:
Exchange Mom will help help you free up spare time by carefully planning when your children are playing together.
Budgetcoach is your private financial coach to optimize your spending pattern, so that at the end of the month you will not run short of money (and can even save some!).
Dinner club is a supplement to budgetcoach in order to be able to daily get a decent meal. By doing smart groceries (think about seasonal products, volume discounts, etc.), you will be able to prepare good and healthy meal and save money.
Next to saving money, this service also let you save time: When you are preparing more food than you need, you can easily invite other people to dinner. The system keeps track of how often you have invited others for dinner and how often you have been invited by others.
Marauders Map is a tool, in which you can track the residents geographically. The smarthome is tightly integrated with this product, which make a number of smart functions possible.
Family Tree is a view on your data in the system, which shows you the internal relations between the users.
The system is constantly maintained, which means in practice that existing functionality is continuously improved and new functions are added.